With our proprietary methods, we've streamlined every process to enable us to keep our prices low.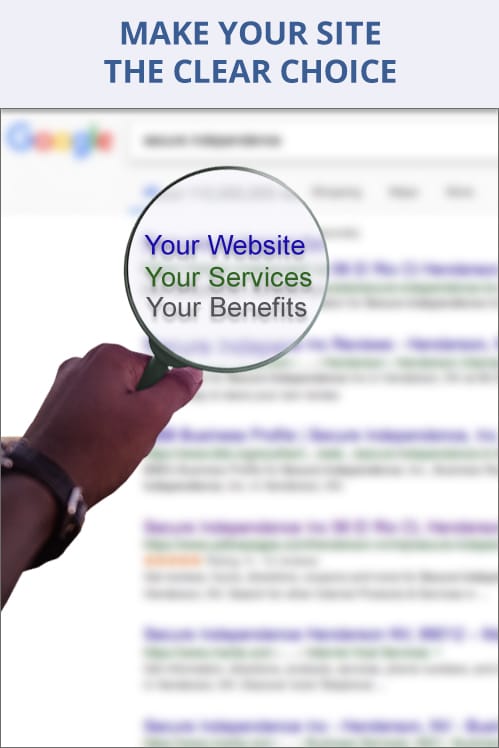 Our low monthly subscription is only $149 per month (less than $5.00 per day), and it AUTOMATICALLY LOWERS to only $99 per month ($3.30 per day) after six months.
Let's be perfectly clear and up front.
We're looking for new clients who are serious
about their business and the traffic to their website.
If you're one of them, you'll recognize the value of what we offer with our Search Engine Optimization service.
You'll also appreciate the confidence we have in our work by offering a
DOUBLE YOUR MONEY BACK GUARANTEE
.
If we do not achieve AT LEAST 1,000 First Page Ranked Positions within 60 days, you have the option to continue with our service at the low $149 per month or, we will issue you a refund of DOUBLE the amount you paid and close your account.
To be specific, the $298 you paid over those two months turns into a $596 refund and we'll part company and remain friends!
What could be more fair than that? Either way, you win!
If we fall short of the 1,000 First Page Ranked Positions, you get to keep all the traffic and clicks you received and we'll refund all the money you paid - plus an extra $298 - with no strings attached!
Guaranteed Google First Page
TYPICAL RESULTS...
Dentist - Edward R. - Philadelphia -
12,164
First Page Listings
Pest Control - Steven S. - Nevada -
16,148
First Page Listings
Home Repair - John L. - New York -
7,114
First Page Listings
Online Gifts - Frank S. - Alabama -
19,960
First Page Listings
Dentist - Ismail E. - Michigan -
16,400
First Page Listings
Towing Service - Glenn G. - Florida -
13,980
First Page Listings
Limo Service - Harry S. - California -
10,456
First Page Listings
Dentist - Marj M. - Alaska -
17,932
First Page Listings
Plumber - Greg H. - Kentucky -
13,306
First Page Listings
Certified Public Account Firm - Mark G. - Florida -
19,725
First Page Listings
Electric Repair - Sonny R. - Missouri -
14,019
First Page Listings
Dentist - Asmita D. - Oklahoma -
15,716
First Page Listings
Family Law - Erin G. - South Carolina -
10,370
First Page Listings
Skin Care - Loui M. - Washington -
13,770
First Page Listings
Law - Gloria P. - North Dakota -
11,080
First Page Listings
Dentist - Sumay K. - Illinois -
16,374
First Page Listings
Real Estate - Joe A. - Iowa -
10,834
First Page Listings
Personal Injury Law - William S. - Oklahoma -
14,259
First Page Listings
Animal Care - Adam F. - Florida -
11,631
First Page Listings
Dentist - Tod B. - Mississippi -
13,139
First Page Listings
Tattoo Shop - Stevie M. - Florida -
16,319
First Page Listings
Financial - Jim F. - Texas -
15,017
First Page Listings
Legal - Vern K. - Pennsylvania -
18,678
First Page Listings
Dentist - David M. - Nevada -
11,983
First Page Listings
Real Estate -Stephen T. - Georgia -
11,415
First Page Listings
Dentist - Barry M. - Maryland -
14,934
First Page Listings
Home Repair - Arlene R. - Minnesota -
13,141
First Page Listings
Criminal Law - Steve C. - Arizona -
13,012
First Page Listings
Dentist Yannni L. - New Jersey -
15,401
First Page Listings